Bread & Fred
1. Partager SVP
2. Télécharger gratuitement :
TITRE : Bread & Fred
GENRE : Action, Aventure, Occasionnel, Indépendant
DÉVELOPPEMENT : SandCastles Studio
ÉDITION : Apogee Entertainment
DATE DE PARUTION : 23 mai 2023
CONFIGURATION REQUISE
MINIMALE :
Système d'exploitation : Windows 7
Processeur : Dual Core 2.4 GhZ
Mémoire vive : 2 GB de mémoire
Espace disque : 1500 MB d'espace disque disponible
RECOMMANDÉE :
Système d'exploitation : Windows 7
Processeur : Dual Core 2.4 GhZ
Mémoire vive : 2 GB de mémoire
Espace disque : 1500 MB d'espace disque disponible
À PROPOS DE CE JEU
À PROPOS DE CE JEU
Peer-2-Peer multiplayer mode will not quite be ready upon the game's release on May 23rd. We hope to have it ready in our June update. In the meantime, Steam itself provides a « Remote Play Together » mode that works pretty well in most cases, assuming the two players are not more than a few hundred miles apart. And of course the game supports two-player mode from the same PC.
We hope to have P2P working soon! Thanks for understanding!
For more details, check out our news update on the subject.
Bread & Fred is a challenging co-op platformer from Apogee where two players must cooperate to jump and climb to the top of a snowy mountain. Play as both Bread and Fred in their exasperating and sometimes maddening climb that requires precision with every jump. Each time you land you'll be closer to the peak and one step closer to mastering the platforming, but your fall down the mountain will be even farther.

Penguin Mechanics:
– Swing to reach distant platforms!
Bread and Fred are attached to each other. That means you don't only fall together, but you can make good use of momentum to swing and propel each other beyond what any single penguin could have ever jumped. Make sure one of you anchors down to the ground or you'll both fall!
– Hold on to walls as long as you can!
The penguins' little hands aren't very good, but you can hang on a wall with your partner for a few seconds to swing them around and overcome the next obstacle. Be careful though. These penguins are chubby so you can't hold on long. Act fast!
– Single-player mode!
Can't find your penguin buddy? Strap your rope to Jeff (a rock!) and use it instead! The climb will all be up to you and your skill, but that also means you have no one to blame when you fall…
Legends say that with these skills, a few penguin heroes have managed to reach the top. Will you be one of them?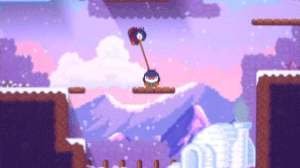 Each fall will hurt, but try to learn and laugh through it. Think carefully about each jump and master the penguin skills to reach the summit.
For the craziest climbers, Bread & Fred includes a speedrun mode so you can compete and be crowned the best penguins on the planet.
The mountain awaits you. Complete your mission. Cooperate with each other and you will be able to go far up the mountain. Just try not to fall (too much). Good luck!!
Langue : Français
Anglais
Italien
Allemand
Espagnol
Portugais
Russe
Format : .exe
Crack : inclus
1) Monter l'iSO
2) Installer
3) Copier les fichiers du dossier CODEX de l'iSO
4) Coller dans l'emplacement du jeu
5) Jouer
Total du post : 3.9 Go
1. Partager SVP
2. Télécharger gratuitement :
Télécharger Bread & Fred avec serial key et Crack inclu
telecharger Bread & Fred PC multijouer Version